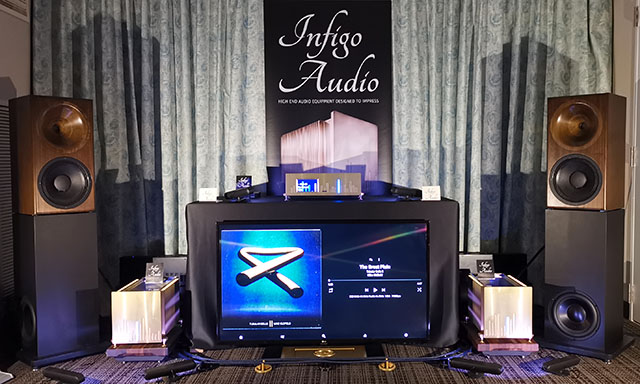 Florida Audio Expo 2022
Tampa FL, February 18 - 20
Source: Fluvius Streamer playing files from SSD drives.
DAC: Method 4
Amps: Method 3
Cables: All throughout Sparkle Series Audio Cables USB, Signature XLR, bi-wire Speaker Cable, Power Cables.
Speakers: Audio Kinesis model Gina, with 4 piece subwoofer swarm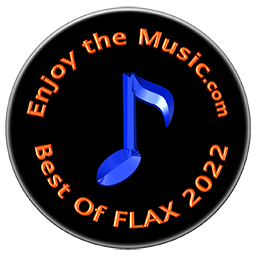 Enjoy The Music: "Most important new (well, almost new) electronics introduction: infigo Audio's stunning Method 3 Class A power amps and matching Method 4 DAC / preamp. Stunning sound, with breathtaking transient attack, lingering decays, and stellar dynamics. This room offered everything. The stellar Block electronics came in just behind the infigo products, offering to my ears, just a little bit less transient fidelity and speed."
Sound Stage Global: "Infigo Audio is a new company from British Columbia, Canada. The word infigo is Latin for impressive. There's some interesting history here; in fact, this may be the most interesting manufacturer and product story of this show."
HomeTheaterHifi.com: "All the electronics were encased with striking silver CNC machined aluminum casework with clear acrylic tops to fully appreciate the electronic eye-candy within."
AVShowrooms: "We played Leonard Cohen's "Boogie Street" and the sound was magical. The vocals emanated from the most quiet background this listener has ever heard. That is the magic of the system, a startling low noise backdrop that enables the music and ambient information between the notes to literally pop out at you. An extraordinary achievement from Infigo Audio!"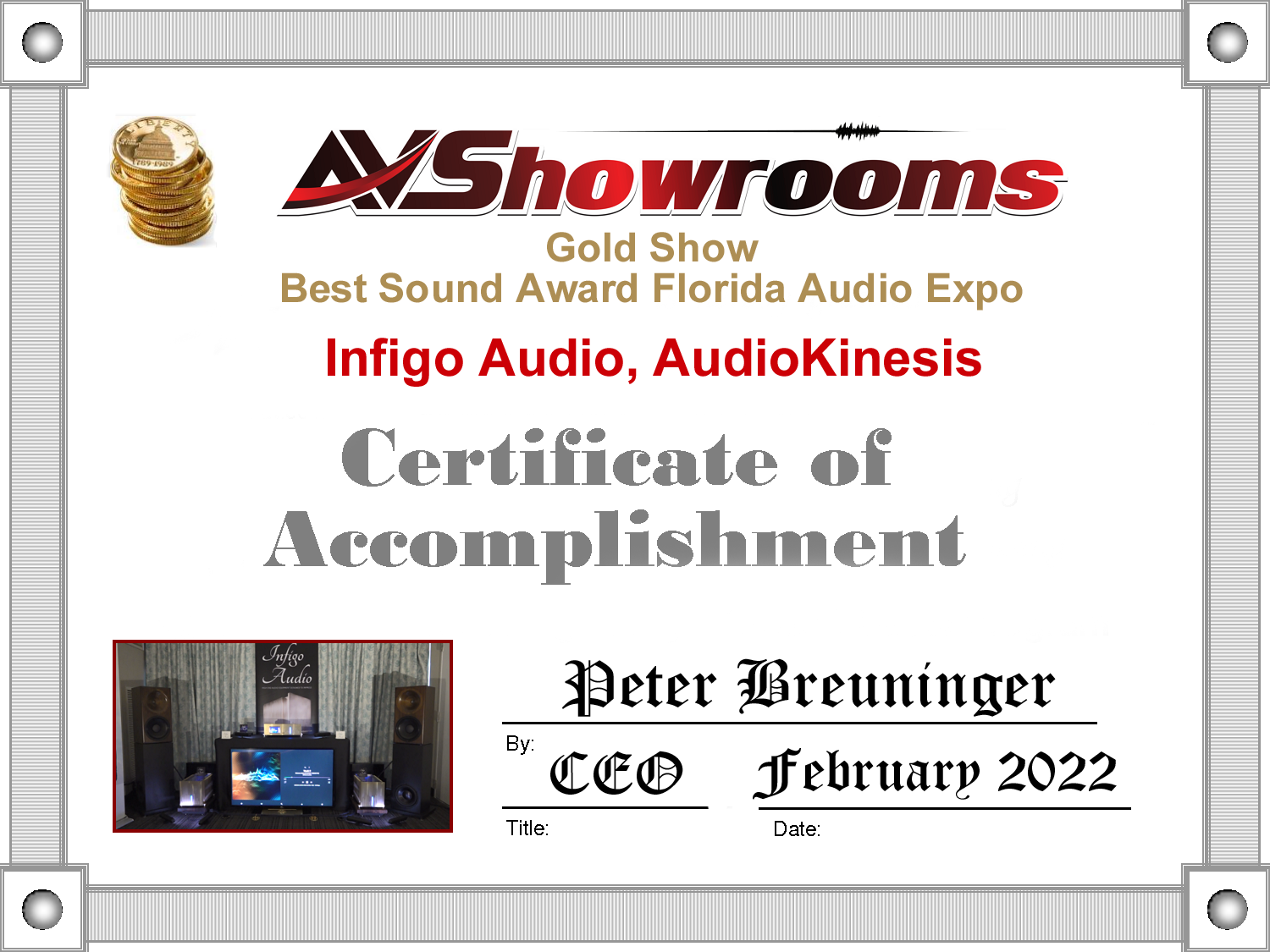 Video coverage of our room by the FAE show crew:
---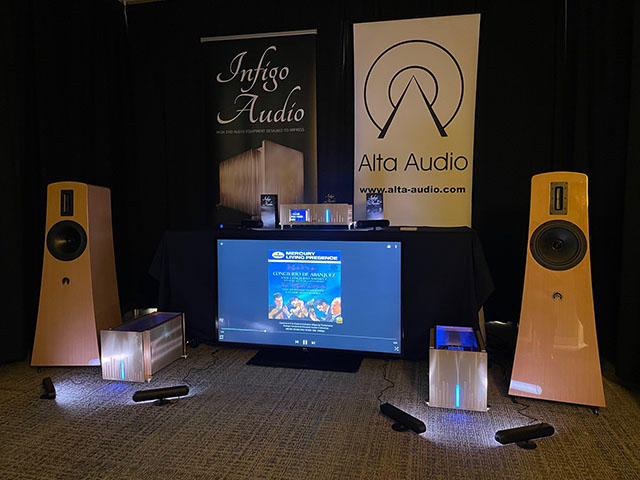 Capital Audio Fest 2021
Washington DC, November 5 - 7
Picture by Lee Shelly Photography
Source: Fluvius Streamer playing files from SSD drives.
DAC: Method 4
Amps: Method 3
Cables: All throughout Sparkle Series Audio Cables USB, Signature XLR, bi-wire Speaker Cable, Power Cables.
Speakers: Alta Audio Alec
Stereophile: "The DAC's beautiful, thick-walled aluminum case and see-through top plate were stunning in the room's atmospheric lighting."
"I quickly fell under the spell of Looman, Oldfield, and these attractive Infigo devices."
Parttime Audiophile: "Occasionally I say dumb things a few times a day. When we entered the room no music was playing, I took a seat and began the bass notes of whatever track was selected. "Good googly moogly!" was belted from my mouth. Not something I normally say, but I'm sure something I've absorbed over the years from reading about the Apollo Space missions."
"Quite impressive, and I hope to see more of what Infigo Audio can do."
Enjoy The Music: "The room just sounded right, from top to bottom; and I went back over and over again to release the fatigue of covering a big show like this. I am working on arranging a review of the electronics, and hope I can solidify that to share these special new electronics with you."
AV Showrooms: "Beautiful, just beautiful. The dynamics are off the charts here"