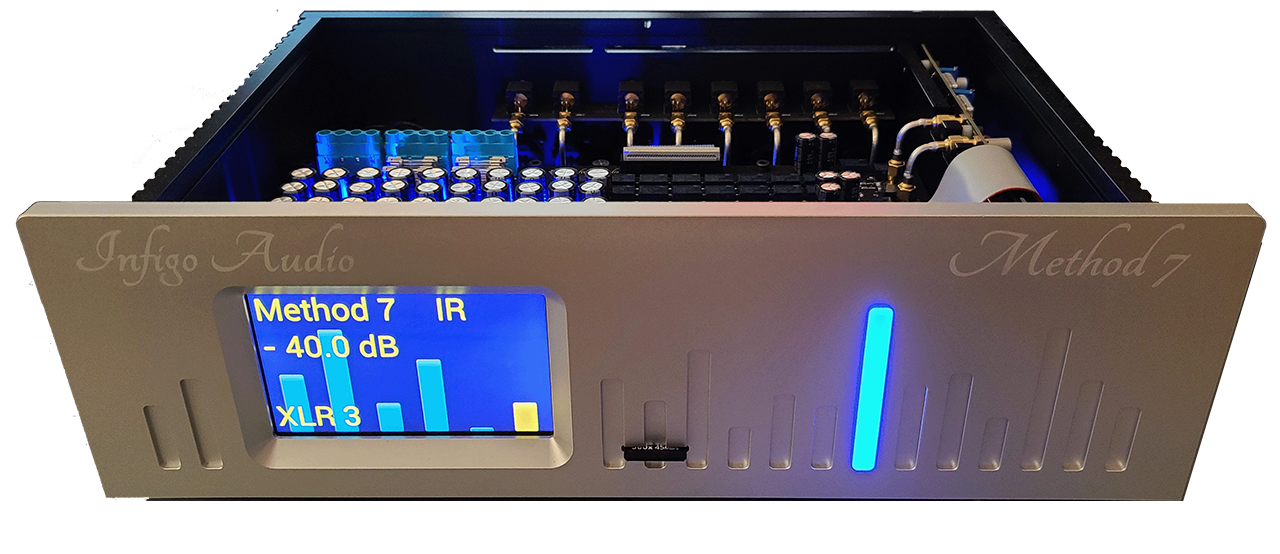 Lucky number 7
Designed to preserve all the beauty of the soundstage.
The Method 7 is our full analog audio path preamplifier that truly preserves all dimensions of the stereo image our other components create.
Full analog audio with the benefits of digital control:
Gold contact relays source select
256 steps of 0.5dB analog volume control by switching precision resistors
Programmable volume offset for each source to equal sound levels
Programmable balance offset for each source
Our unique 'audio matrix' allows each input to be used as line level output, for instance to be connected to a recording input
Each input can be programmed as bypass input with programmable fixed gain for home theater bypass functionality
Programmable loading resistance and capacitance on MC and MM phono cartridges for best sound on phono stage
Remote control operation as well as touch screen selection of source and volume
Balanced and single ended outputs have separate driver circuitry
The Method 7 combines the most musical analog circuitry connected to versatile digital control. Its firmware can easily be upgraded via a SD card slot in the front. Firmware is available on our website.
The Method 7 is the ultimate companion to directly drive a set of Method 3 amplifiers or Method 6 stereo amplifier.
Its 3 single ended, 3 balanced inputs and phono stage allow for a total of 7 difference music sources.
Lucky number 7.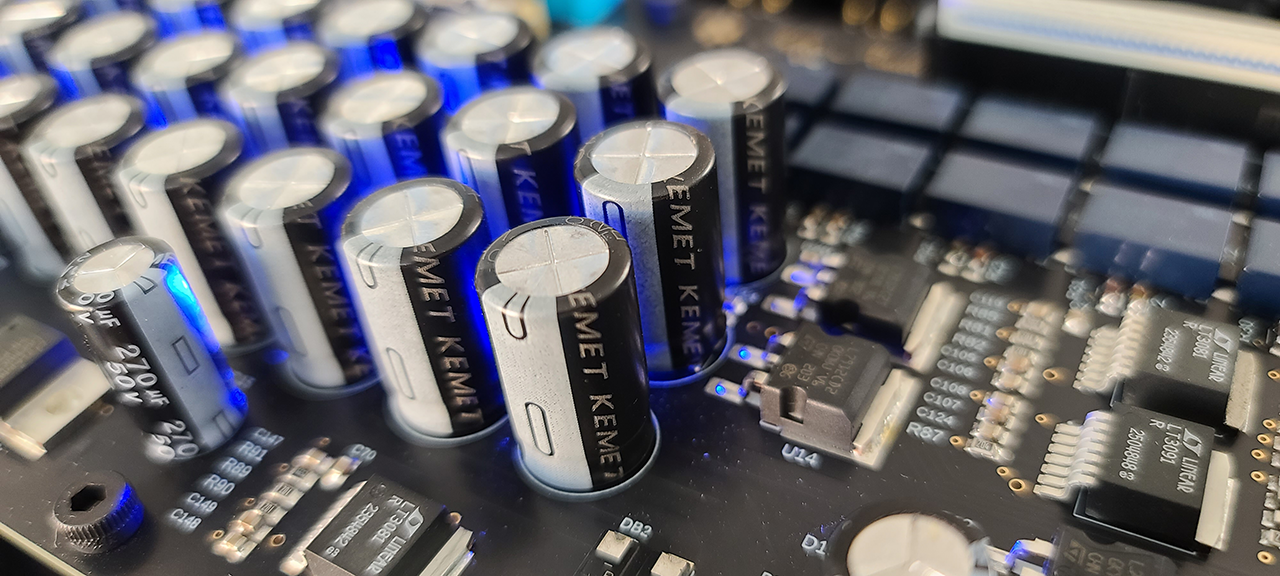 Purity through power
Fully separated digital and analog power supplies on each subsection of the circuitry create the renowned 'Infigo' low noise black background with great dynamics.
There are a total of 16 distributed linear power supplies to make this happen.
3 large banks of capacitors buffer the supplies, one for digital, and one each for positive and negative analog.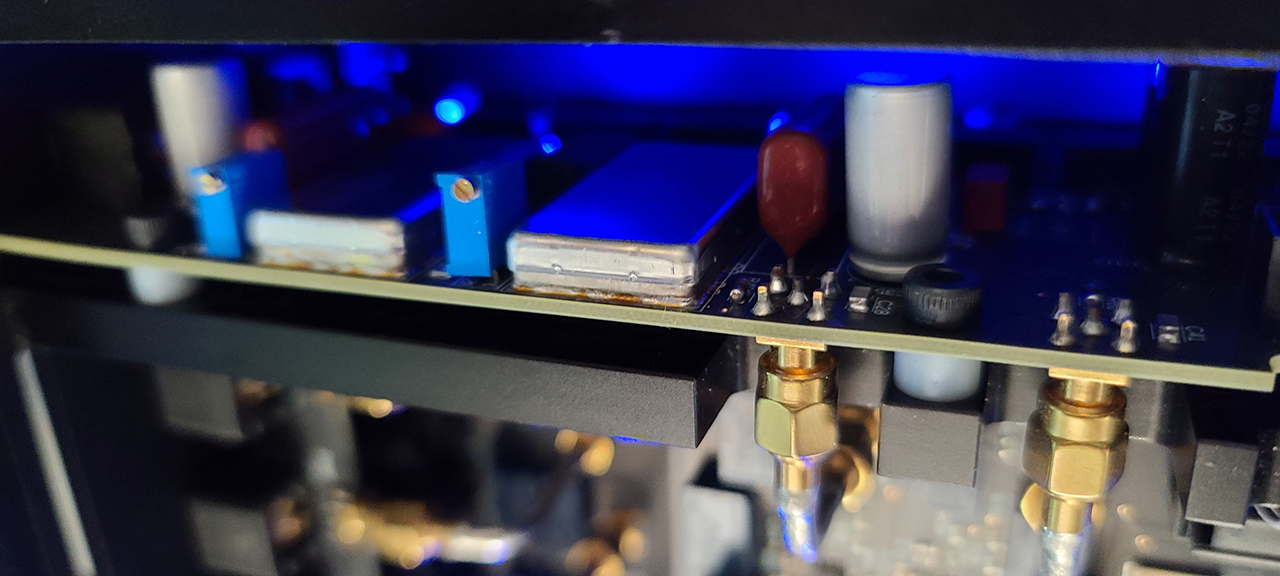 Phono Stage
The Method 7 has a built in phono stage that supports both Moving Coil and Moving Magnet cartridges.
It is separated from the rest of the circuitry by a wall in the enclosure, and metal shields around each phono amplifier at the circuit board.
Via the setup menu programmable loading resistors and capacitors can be selected to match almost any available phono cartridge on the market.
The default gain is 40 dB for MM and 60 dB for MC operation, and via programmable offset another +/-20 dB can be offset to this.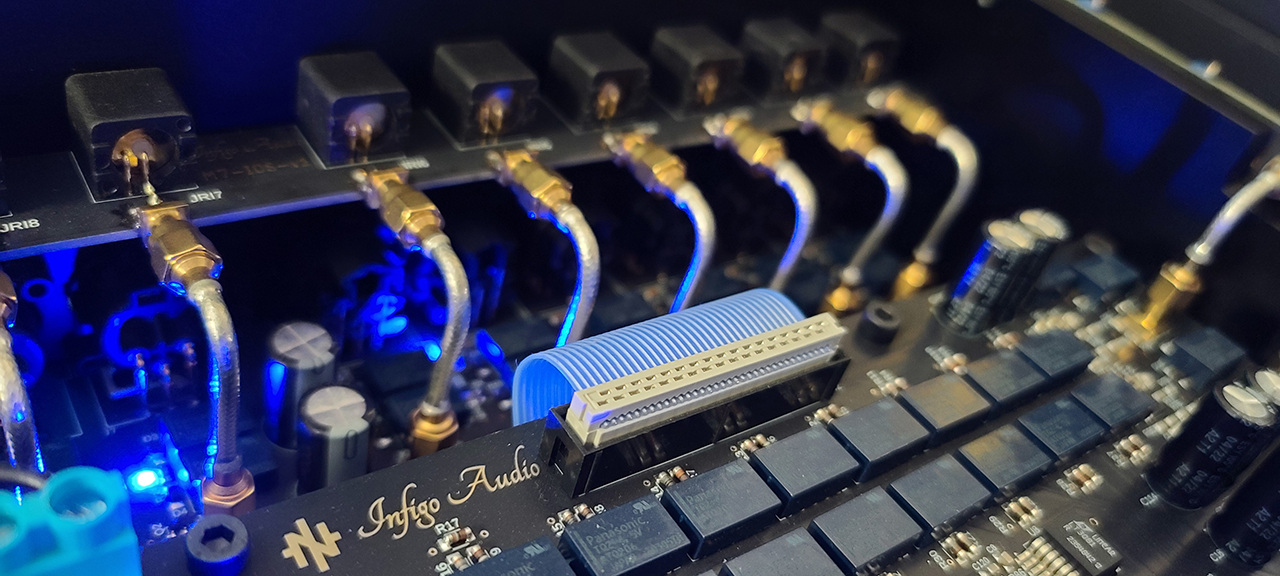 Specifications
Inputs:
3 x XLR balanced stereo (can set to be outputs)
3 x RCA single ended stereo (can set to be outputs)
1 x RCA phono MM or MC stereo with GND
Outputs:
1 x XLR balanced stereo
1 x RCA single ended stereo
Input impedance: 21 kOhm
Output impedance: 50 Ohm

Frequency Response:
0 Hz – 150 kHz (-3 dB) XLR and RCA inputs
6 Hz – 75 kHz (-3 dB) Phono input
THD+N: 0.005%
Distortion: 0.0005% (Mostly 2nd harmonic)
IMD: 0.00042%

Gain: 12 dB (6 dB input stage, 6 dB output stage)
Phono gain: 40 dB MM, 60 dB MC
Phono RIAA accuracy: 0.06 dB (10 Hz – 20 kHz)

Voltage: AC 100-140 V / 200 – 250 V selectable
Frequency: 50 – 60 Hz
Power consumption: < 15W

Dimensions:
18" x 11" x 6" (W x D x H)
45.7 x 28 x 15 cm (W x D x H)
Weight: 27 lbs, 12 kg