Digital ~ Analog
Nothing is more analog than digital.
The arrival of the digital era made one thing really clear: it is way more than just ones and zeros.
If designed properly however, digital can reveal at least equal, if not better, musical experience.
The Method 4 combines the best digital front end circuitry connected to multiple outstanding analog output stages.
The musical heart of it all is a set of the renowned ES9038PRO Sabre DAC chips, governed by modern ARM based controllers.
The Method 4 is the ultimate companion to directly drive a set of Method 3 amplifiers, effectively eliminating the need of a pre-amplifier.
The 32 bit audio path with digital volume control ensures preservation of the smallest of details at all levels of playback.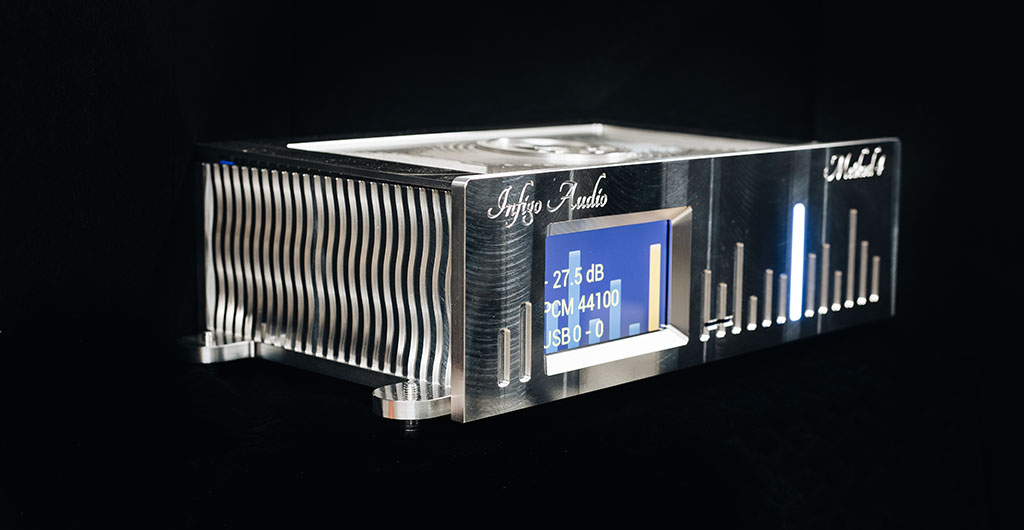 Unity through diversity
Military grade clocks and dedicated power supplies for each sub-circuit are a must. To keep unwanted processor signals away, the controller that governs all circuitry runs on the exact same clock as the music that's being played, creating true synchronicity.
Dimmable touchscreen and Apple remote compatible operation for direct control or from the comfort of the listening chair.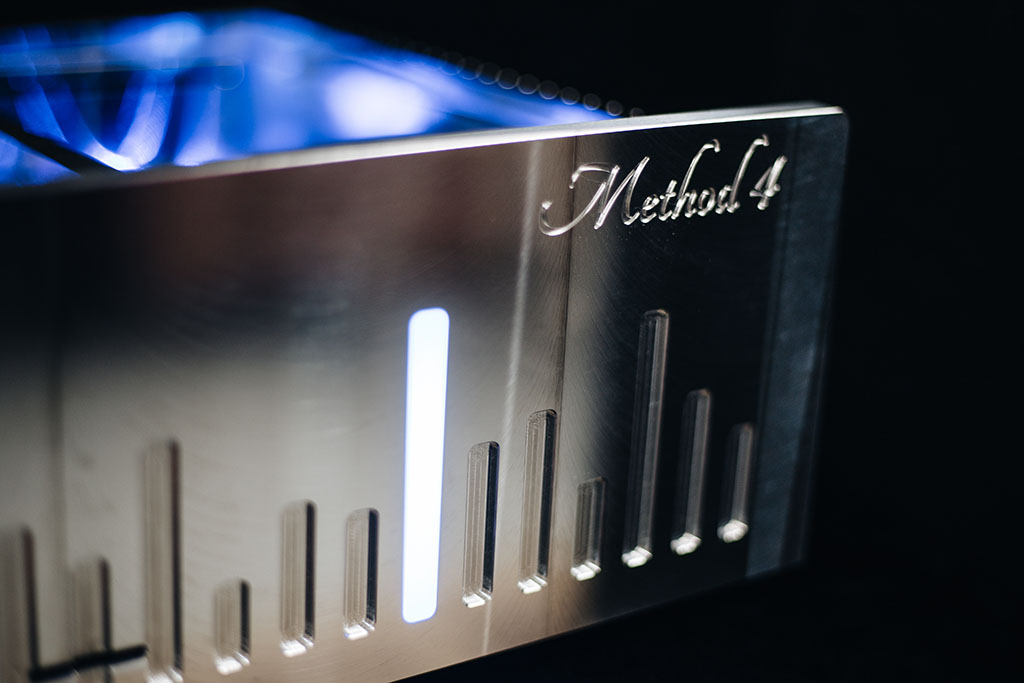 Natural
The Method 4 feels at home with any type of music you throw at it, from Bach to Infected Mushroom.
Breathtaking dynamics will have you at the tip of your chair, staying natural at all times.
Aesthetics are important too: the Method 4 comes in Silver, Gold or Black, or any combination thereof, such as a version in gold with black heatsinks.
All parts of the Method 4 are carefully crafted from pure materials. Every detail is custom machined. The inevitable milling machine marks are designed to give a beautiful reflection of light from different angles.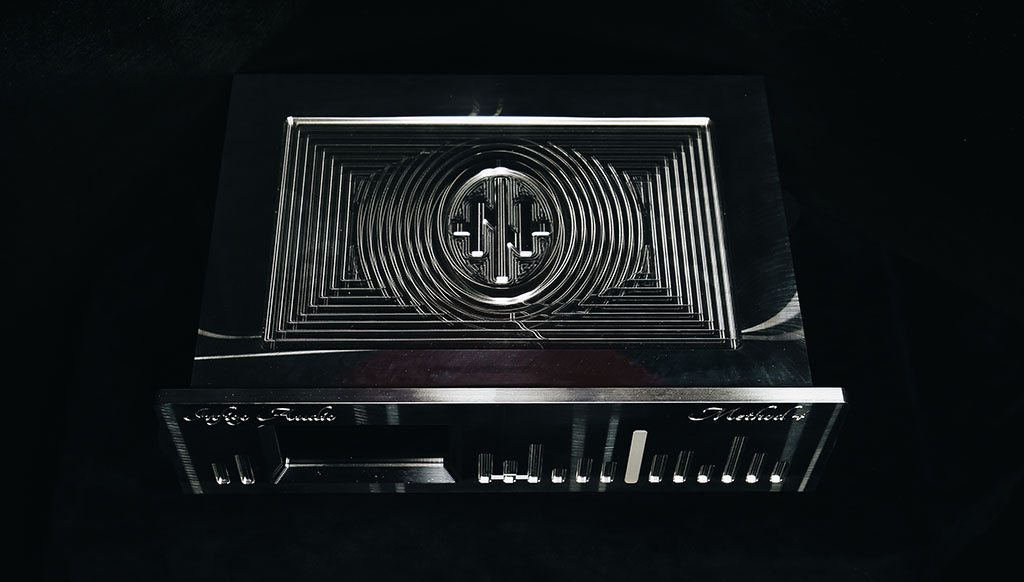 Specifications
Inputs:
SPDIF RCA & BNC: 44.1 - 192 kHz, 16 - 32 bit
Optical: 44.1 - 192 kHz, 16 - 32 bit
AES XLR: 44.1 - 192 kHz, 16 - 32 bit
USB: 44.1 - 768 kHz, 16 - 32 bit, DSD64 - DSD512
Separate Outputs:
Single Ended: 2 x RCA
Balanced: 2 x XLR

Voltage: AC 120V or 240V selectable, 50 or 60 Hz, 20W.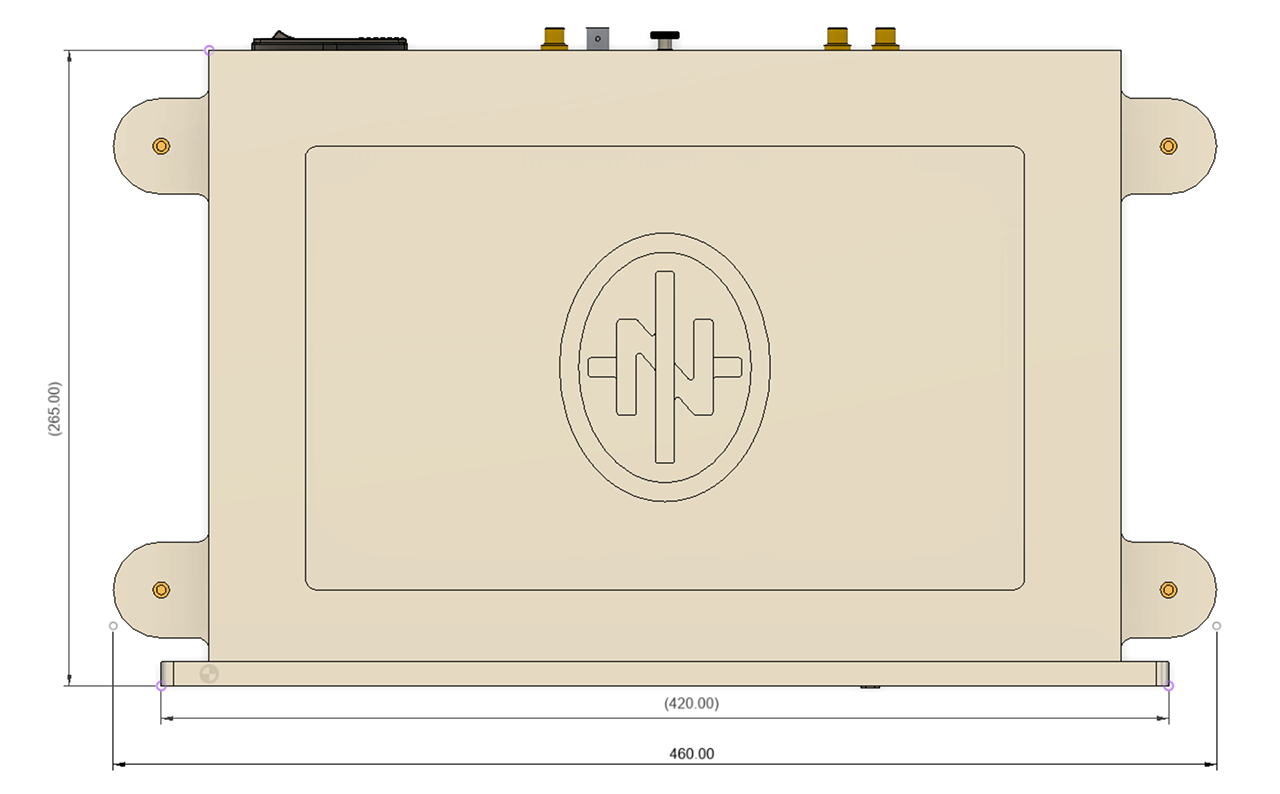 Dimensions
The front of the Method 4 DAC is 420mm wide (around 16.5") - the max width including feet is 460mm (18.1")

The height is 125 mm (5") plus the size of the spikes, see image.

Weight: 14 KG (31 pounds)